These Photos Offer An Intimate Peek Into The WFH Routines Of 3 Moms
These Photos Offer An Intimate Peek Into The WFH Routines Of 3 Moms
"I'm such a bad mom." Five words we tell ourselves, veiled in the feeling that we're just not doing it right. The truth is, with the bar of motherhood set so impossibly high, there really is no doing it right, all the time, in every way. And now, in the throes of a global pandemic, the bar has shifted even higher. If you, too, are making meals out of old cereal, abandoning screen-time limits, and, you know, are occasionally terrified about what the future holds, you're not alone. No Bad Moms is a series about not just lowering the bar, but ditching it completely. It's about finding the good mom within all of us. And most of all, honoring that in each other, on Mother's Day and EVERY day. So, please share your stories about what it's like to be a mom right now with #nobadmoms, because we see you. And, no matter what, we think YOU are an inspiration.
Working from home brings up unique challenges for mothers. With schools closed and childcare unavailable during COVID-19, many parents are left to juggle the responsibilities of their jobs with taking care of their kids. If finding balance was hard before the pandemic, it's pretty much impossible now. Despite the stress, uncertainty, and abundance of family «quality time,» there are unique and beautiful moments of closeness that the long hours in close quarters create.
We asked three photographers who are in lockdown with their kids to document what their days are like right now. The result is an intimate collection of images that capture ordinary life in an extraordinary time.
Liz Von Hoene, Quarantined With 3 Kids
"The family that's quarantined together, cooks together, cleans up together, swims together, and finds creative ways to not be bored together," says Liz Von Hoene, a 54-year-old fashion and advertising photographer who has five children, ages 13 to 28. Liz and her partner, Rebecca Weinberg, are currently at home in Atlanta with three of the kids.
Liz usually travels for work; with that on hold, she's had idle time to fill. The family is taking the dog on long walks and going for drives together. They put on an outdoor movie night. They do workouts in the yard. "Rebecca loves to DJ, so she hosted a Zoom family and friends dance party for all to let loose," she says. "Our younger son, Rex, has been hitting the home gym, and working out with his big brother in the backyard. They do push-ups using milk gallons!"
"It has been awesome to sleep until 9 or 10 in the morning," says Liz, who usually wakes up at 6:30 a.m. to get 13-year-old Rex ready for school. "We've all been staying up later than usual, playing video games and watching the entire Tiger King docuseries. We're all finding ways to entertain ourselves into the wee hours."
Mindy Byrd, Quarantined With A Toddler And Baby
"It's survival mode over here," says Mindy Byrd, who's been at home with her partner, her three-year-old, and her 11-week-old in Portland, OR since March 6. "We've allowed more screen time than I'd like to admit, and have been letting [my toddler] stay up later, after the baby goes to bed for some one-on-one time with mom and dad. I'm trying to keep the mom guilt at bay. Letting him make messes when we typically try to keep the house clean has become more frequent — for work-from-home sanity reasons — while we make masks, paint, and color together. Oh, and there have been so many Popsicles."
Mindy and her partner are both freelance artists. They welcomed baby Sonny into the world not long before the coronavirus hit the U.S. "Our family is adjusting to our own new normal within the world's new normal, one that keeps us inside a small space together every day with no breaks," she says.
The 38-year-old says she's glad that her children are too little to really grasp what's going on. "My oldest son curls up next to me sometimes, and in his saddest voice says 'Mom, I miss my friends every day,'" she says. "And it makes my heart hurt. But then he jumps up and runs to his train set, forgetting our emotional moment seconds earlier… Watching the world through their eyes is a blessing."
"It's amazing what fresh air can do for your spirits, especially with a newborn and toddler during this lockdown," says Mindy. "The sun is out and the flowers are blooming everywhere in Portland, my favorite time of year. Watching my partner play and bond with our oldest child while most of my attention is focused on the baby has been really beautiful."
Still, she adds, "I find myself occasionally feeling a tinge of jealousy when I see others online working on passion projects or becoming chefs. Some days I'm just the Diaper Queen of Baby Poop Island, wading through a sea of emotions from both kids. I'm breastfeeding while I pee and the other one bangs on the bathroom door."
Tyra Mitchell, Quarantined With Twins
Tyra Mitchell, a mom of twin two-year-olds who's based in Washington, D.C., says her family is missing the playground. A lot. But she's still trying to find gratitude for the moments of joy while she's at home with her daughters.
"The best thing about being quarantined with my minis has been having the chance to be more present," the 26-year-old says. "Since our movement is limited, I have to be more creative in our daily activities. My girls absolutely love art and being outside so that's how we spend most of our time. We're fortunate to have a spacious backyard where they are able to run around freely and interact with nature."
Tyra's daily routine isn't so different, despite social-distancing measures. Her daughters still take naps and go to bed at the same time, and her whole family is still following the same plant-based diet they were before the coronavirus. "Although, we have upped our vitamin intake, especially vitamin D when we're inside for periods of a time," she says.
As a self-employed freelance photographer and DJ, Tyra is used to being home with her children unless she's on assignment.
"The most challenging part of being quarantined with my daughters is no different from my usual challenges as a stay-at-home mother — when I'm trying to get work done or need time to myself and they want my full attention. It's not easy and gets really frustrating at times because you want your kids to be happy but you also have your other priorities."
Still, since her kids are cooped up and play dates are on hold, she has had to find new ways to keep them busy while she attempts to finish projects. One solution: "More screen time for the girls," she admits. But it's not a perfect fix. "They're not crazy about TV and gadgets; they enjoy actual activities," she notes. "So my attempts at running a movie or having their favorite show on repeat don't really last long, and they're coming to find me to play with them."
«At two years old, my daughters aren't aware of what's happening," Tyra says. "I'm sure somewhere in their minds they're wondering why we haven't been to any of our favorite places lately, but I make it my duty to keep them busy and distracted with other activities."
She's also trying to remain patient and optimistic herself. "I'll occasionally have a moment of mild panic because it's still unbelievable to me that this is our reality, but I make sure to take a deep breath. I stay calm for my girls and myself. I also try to have many moments of gratitude and give thanks for the fact that my family and I are in good health, have a home, and food to eat."
Snowdrops: 10 best varieties and how to look after them in your garden
One of the earliest spring flowers to blossom, snowdrops are always a welcome sight when they pepper the countryside with their delicate, white petals. Flowering from January to March, snowdrops vary in height, size, shape and variety.
10 of the best snowdrops to grow in your garden
The below list of garden snowdrops have all been given an Award of Garden Merit by the RHS.
Snowdrop: Galanthus 'Atkinsii' – This snowdrop is distinctive for the green heart-shaped mark at the top of the inner petals. The outer white petals are long and slender. The leaves are often folded back.
Snowdrop: Galanthus elwesii var. monostictus – The leaves of this snowdrop are wider and have a grey tinge to them. The white petals are bigger, too, with in an inverted 'V' and the tip of each inner petal. BUY NOW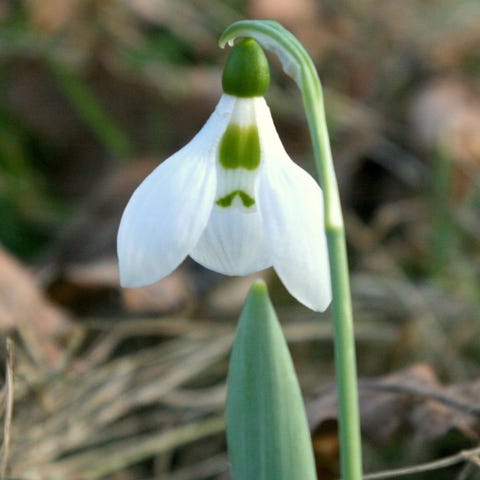 Snowdrop: Galanthus 'Magnet' – These snowdrops have long, tall stems which separate the flower from the narrow, green leaves, meaning they bob around in the breeze.
Snowdrop: Galanthus nivalis – This is the common snowdrop we are used to seeing in woods and fields in February. The edges of the leaves touch at the base and the outer petals are about 2.5cm long. It is a resilient variety. BUY NOW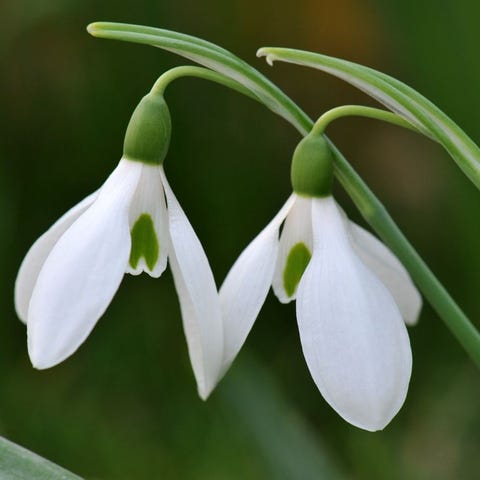 Snowdrop: Galanthus nivalis f. pleniflorus 'Flore Pleno' – A snowdrop with a double form, the green-tipped inner petals of this snowdrop are plentiful and spread out, leaving the outer petal to fall wider. BUY NOW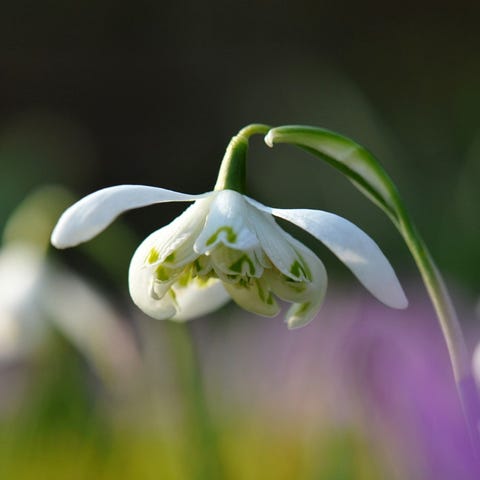 Snowdrop: Galanthus plicatus – The dark green leaves on this snowdrop are folded back on themselves and the petals fall in a rounded shape.
Snowdrop: Galanthus reginae-olgae subsp. reginae-olgae – These snowdrops are known for flowering in autumn, in September and October. They have very short leaves when flowering and inner petals can have an inverted 'V' or 'U'.
Snowdrop: Galanthus 'S. Arnott' – This snowdrop is robust with big petals that open widely.
Snowdrop: Galanthus woronowii – The leaves are a bright, glossy green. The flowers are a bit smaller than others and the inners are marked with a green horseshoe shape.
Snowdrop: Leucojum vernum – These are not snowdrops but are closely related and just as beautiful. All petals are the same size with a bright yellowy-
green mark. BUY NOW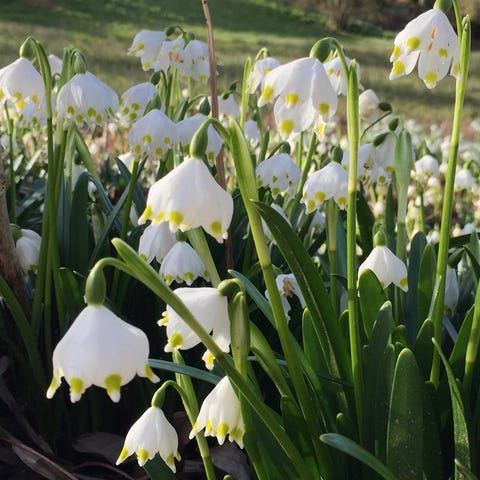 How to care for snowdrops and make them last longer
Do you have any snowdrops in your garden? We spoke to RHS chief horticulturist, Guy Barter, to find out how to keep these spring flowering favourites healthy for longer. Here are his top 10 snowdrop gardening tips:
1. Strictly speaking, snowdrops are probably best lifted and divided as the foliage dies back, just before they disappear underground and become hard to find. They resent becoming desiccated so must be planted quickly after lifting.
2. Dried out snowdrop bulbs are notoriously hard to establish, but newly lifted bulbs can be stored in trays of moist, peat-free potting medium until late August, where re-planting straight away is not possible.
3. Lifting and dividing while in leaf, ideally after flowering, is more convenient and less likely to be overlooked than waiting for the ideal moment. This is generally in May when there are so many other matters to distract the gardener.
4. Snowdrops spread quite fast so it is worthwhile dividing clumps every few years to increase their rate of multiplication. Divide into clusters of three to five bulbs if you are pressed for time and singling bulbs will take too long.
5. Gardeners who are in a hurry to have lots of snowdrops, but don't want excessive expenses, can master the rather technical art of 'twin-scaling'. This is where bulbs are cut into several, two-scale segments and induced to form numerous little bulblets on the base of the scales, in a bag of damp vermiculite.
6. The leaves are vital to build up the bulbs' food reserves and allow new daughter bulblets to form, so never trim or tie into bunches.
7. Snowdrops are not hungry plants but applying a potassium-rich general fertiliser at about 50g per square metre in winter is helpful.
8. Wisley gardeners favour growing their potted snowdrops in John Innes No. 2 type potting media with up to 30% volume of coarse grit. Repotting should happen every two to three years. Tomato feed, rich in potassium, is used once in spring, to get the bulbs off to a good start and again after flowering. In fact, it is probably worth watering particularly precious bulbs in beds and borders with this fertiliser at the same time.
9. Make sure to stop your pots from freezing in winter or getting too hot in summer. We 'plunge' (bury up to the rim) potted snowdrops into a bed of damp coarse sand that keeps root temperature equable. Sand beds should be covered with a cold frame in winter.
10. Snowdrops are relatively trouble-free but where disease occurs a cure is seldom possible. Unfortunately, they must be discarded immediately to reduce the risk to the remaining bulbs.
Looking for some positivity? get Country Living magazine posted through your letterbox every month. SUBSCRIBE NOW
Like this article? Sign up to our newsl etter to get more articles like this delivered straight to your inbox.
Oceanic Whitetip Shark
Oceanic Whitetip Shark — NOAA Fisheries
Oceanic Whitetip Shark — NOAA Fisheries
About the Species
Oceanic whitetip sharks are large, pelagic sharks found in tropical and subtropical oceans throughout the world. They live offshore in deep water, but spend most of their time in the upper part of the water column near the surface. Oceanic whitetip sharks are long-lived, late maturing, and have low to moderate productivity.
The main threat to oceanic whitetip sharks is bycatch in commercial fisheries combined with demand for its fins. They are frequently caught in pelagic longline, purse seine, and gillnet fisheries worldwide and their fins are highly valued in the international trade for shark products. As a result, their populations have declined throughout its global range. In 2018, NOAA Fisheries listed the species as threatened under the Endangered Species Act.
Population Status
Information on the global population size of the oceanic whitetip is lacking. However, several lines of evidence suggest that the once common and abundant shark has experienced declines of potentially significant magnitude due to heavy fishing pressure. For example, the oceanic whitetip has declined by approximately 80 to 95 percent across the Pacific Ocean since the mid-1990s. Substantial abundance declines have also been estimated for the Atlantic Ocean, including an 88 percent decline in the Gulf of Mexico due to commercial fishing. Given their life history traits, particularly their late age of maturity and low reproductive output, oceanic whitetip sharks are inherently vulnerable to depletions, with low likelihood of recovery. Additional research is needed to better understand the population structure and global abundance of the oceanic whitetip shark.
Protected Status
ESA Threatened
CITES Appendix II
SPAW Annex III
Throughout the Wider Caribbean Region
Appearance
Oceanic whitetip sharks are large-bodied sharks with a stocky build, and have a distinctive pattern of mottled white markings on the tips of their dorsal, pectoral, and tail fins. These markings are why they are called "whitetip" sharks. Their dorsal fins are rounded and their pectoral fins are long and paddle-like. The color of their bodies varies depending on where they live. They are generally-grayish bronze to brown, while their undersides are whitish with some individuals having a yellow tinge.
Behavior and Diet
The oceanic whitetip shark are considered a top predator, eating at the top of the food chain. They are opportunistic, feeding primarily on bony fishes and cephalopods, such as squid. However, they also reportedly feed on large pelagic sportfish (e.g., tuna, marlin), sea birds, other sharks and rays, marine mammals, and even garbage.
Where They Live
The oceanic whitetip shark is found throughout the world in tropical and sub-tropical waters. It is a pelagic species, generally found offshore in the open ocean, on the outer continental shelf, or around oceanic islands in deep water areas. Although they can make deep dives and have been recorded up to 1,082 meters (3,549 feet) deep, they typically live in the upper part of the water column, from the surface to at least 200 meters (656 feet deep). Oceanic whitetip sharks have a strong preference for the surface mixed layer in warm waters above 20°C, and are therefore considered a surface-dwelling shark.
Lifespan & Reproduction
Oceanic whitetip sharks are estimated to live up to 25 years, although it is thought that individuals may live to be much older (up to 36 years). Female oceanic whitetip sharks reach maturity between 6 and 9 years of age (depending on geographic location) and give birth to live young after a very lengthy gestation period of 10 to 12 months. The reproductive cycle is thought to be biennial, with sharks giving birth on alternate years to litters ranging from 1 to 14 pups (average of 6). There is also a likely correlation between female size and number of pups per litter, with larger sharks producing more offspring.
Threats
Commercial Fishing and Bycatch
The primary threat to the oceanic whitetip shark is incidental bycatch in commercial fisheries, including longlines, purse seines, and gillnets (among other gear types) Because of their preferred distribution in warm, tropical waters, and their tendency to remain at the surface, oceanic whitetip sharks have high encounter and mortality rates in fisheries throughout their range.
Harvest for international trade
Their large, distinct fins are also highly valued in the international shark fin trade.
Scientific Classification
Featured News
The Curious Case of a Shark and a Cephalopod
How Our Shark Finning Ban Helps Us Sustainably Manage Shark Fisheries
Pelagic blacktip shark in open water. Credit: Madelein_Wolf/Getty Images
U.S.-Caught Sharks Are a Sustainable Food Choice
Tagging the Oceanic Whitetip Shark
In the Spotlight
Management Overview
The oceanic whitetip shark is listed as threatened under the Endangered Species Act (ESA). It is also listed under Appendix II of the Convention on International Trade in Endangered Species of Wild Fauna and Flora (CITES), Annex II of the Protocol Concerning Specially Protected Areas and Wildlife of the Cartagena Convention (SPAW Protocol), and Annex I of the Sharks Memorandum of Understanding on the Convention on Migratory Species (CMS).
Recovery Planning and Implementation
Recovery Action
Under the ESA, NOAA Fisheries is required to develop and implement recovery plans for the conservation and survival of listed species. NOAA Fisheries has developed a recovery outline to serve as an interim guidance document to direct recovery efforts, including recovery planning, for the oceanic whitetip shark until a full recovery plan is developed and approved. The recovery outline presents a preliminary strategy for recovery of the species and recommends high priority actions to stabilize and recover the species.
The major actions recommended in the outline include:
Maintain existing U.S. laws and regulations that protect sharks and prohibit retention of oceanic whitetip sharks in pelagic longline fisheries and some recreational fisheries.
Improve understanding of bycatch and associated mortality rates (including at-vessel and post-release mortality) in key fisheries, including impacts of various factors such as gear type, hook type and depth, temperature, temporal and spatial fishing effort, interactions with fish aggregating devices, etc. for informing future fisheries management strategies to reduce fisheries interactions and associated mortality.
Reduce primary threats (e.g., bycatch-related mortality in commercial fisheries) to prevent further declines in species' abundance and stabilize populations, including investigating best methods for safe release of oceanic whitetip sharks in longlines.
Improve understanding of population distribution, abundance, trends, and structure through research, monitoring, and modeling.
Identify and protect key habitat areas, including breeding and nursery grounds through research, monitoring, modeling, and management.
Improve understanding of reproductive periodicity and seasonality to inform future management measures for minimizing impacts to the species during key life history functions.
Review available information to determine if any countries continue to catch significant amounts of oceanic whitetip shark and/or are involved in the trade of oceanic whitetip fins to prioritize outreach and coordination for improving compliance with regional fisheries management organizations (RFMOs) and CITES requirements.
Coordinate with relevant RFMOs to improve, where needed, reporting and compliance related to current conservation measures for oceanic whitetip sharks to address bycatch mortality.
Recovery Planning Workshops
We held two recovery planning workshops for the oceanic whitetip shark — one on April 23-24, 2019 in Honolulu, Hawaiߵi, and another on November 13-14, 2019 in Miami, Florida. The purpose of these workshops was to gather information, facts, and perspectives on how to recover the oceanic whitetip shark, including identifying potential recovery criteria and actions to address the threats to the oceanic whitetip shark. Participants included federal and state agencies, scientific experts, commercial fishermen, conservation partners, and non-governmental organizations.
(PDF, 3 page) (PDF, 18 pages) (PDF, 3 pages) (PDF, 21 pages)
Recovery Contacts
Kristen Koyama , Oceanic Whitetip Shark Recovery Coordinator
For more information on oceanic whitetip sharks in our regions:
Adam Brame , Southeast Region
Chelsey Young, Pacific Islands Region
Conservation Efforts
At the 2013 meeting of the Conference of the Parties to the Convention on International Trade in Endangered Species of Wild Fauna and Flora (CITES), the Parties agreed to include oceanic whitetip sharks in Appendix II of CITES, with the listing effective on September 14, 2014. The inclusion of oceanic whitetip sharks in CITES Appendix II helps ensure that the international trade for this species is legal and sustainable.
Eastern Grey Kangaroo
Click to enlarge image Toggle Caption
Fast Facts
Classification Species giganteus Genus Macropus Family Macropodidae Order Diprotodontia Subclass Marsupialia Class Mammalia Subphylum Vertebrata Phylum Chordata Kingdom Animalia
Size Range 0.84m — 1.3m
The Eastern Grey Kangaroo is an iconic marsupial mammal. They live in mobs of 10 or more in a home range of up to 5km in eastern Australia.
Identification
Eastern Grey Kangaroo, Macropus giganteus, is a marsupial mammal that belongs to a small group called macropods. They have hind legs that are larger than their forelimbs. Their hind feet are also large and powerful. Their long muscular tail is used for balance when hopping and as a fifth limb when movements are slow. The fur is a light grey woolly colour except the face which is darker. A dark tip of fur is also found on the tail.
Males: body length to 1.3m, tail to 1m; females: body length to 1m, tail to 0.84m
Habitat
They are found in habitats ranging from semi-arid mallee scrub through to woodlands, some farmland areas with remnant vegetation and forest. They tend to favour denser scrubs and forests.
Distribution
Grey Kangaroos have wide and almost continuous distribution between the inland plains and the coast where the annual rainfall is more than 250mm. The Eastern Grey Kangaroo is found over most of the eastern states including Tasmania. They are also found at all altitudes in woodlands up to subalpine areas.
Feeding and diet
The Eastern Grey Kangaroo is predominantly a grazing animal with specific food preferences. They are herbivorous, favouring grasses but will eat a range of plants, including in some cases, fungi. With the grasses they prefer to eat young green shoots high in protein. Dry grass is difficult for them to digest. Being nocturnal, large 'mobs' will gather at dusk to feed where food is most abundant.
Other behaviours and adaptations
They usually rest in the shade or shelter of trees or scrubs moving out to graze from late afternoon to early morning when they will congregate in the open. This is avoiding the hottest part of the day. They communicate via a series of clucking sounds. Aggressive males and alarmed individuals of both sexes give vent to a guttural cough.
The tendons in the legs of kangaroos act like sprung ropes and help propel the animal at fast speed with minimum effort. The highest recorded speed was set by a female Eastern Grey Kangaroo at 64km/hr.
Breeding behaviours
Breeding is continuous throughout the year and reaches a peak in summer. The newborn 'joey' which weighs less than one gram is born thirty six days after mating. It climbs unaided into the pouch and shortly afterwards attaches to one of the four teats. The young kangaroo is raised in the pouch until it can survive outside. At about 9 months the joey will begin to leave the pouch but continues to suckle from time to time. A joey becomes independent at about 18 months of age.
Conservation status
The Eastern Grey Kangaroo is protected by law. For thousands of years, though, indigenous peoples have hunted the kangaroo for food and skins. When Europeans arrived in the eighteenth century, they too hunted the kangaroo. There are now rules in place in all Australian states and Territories to protect kangaroos. The Eastern Grey Kangaroo is among 4 abundant species that can be commercially harvested for export. This can only be done by licensed hunters. None of these 4 species is threatened or endangered. Kangaroo meat is now being looked at as an alternative source of meat to beef. The soft feet of kangaroos are more preferable to the hard hoofs of cattle in erosion prone areas.